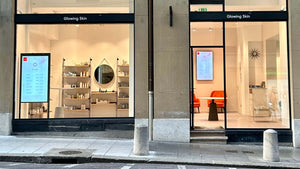 Contact us!
Our wish is to help you take care of your skin from an early age. The skin is a capital, it must be preserved.
You can contact us by:
By telephone
You can contact us by telephone 022/310-5654 from Monday to Friday, from 9:00 a.m. to 7:00 p.m. and Saturday from 9:00 a.m. to 6:00 p.m.
We can answer you in French and English.
By the form
You can use our contact form below, we aim to respond to you within 24-48 hours.
By email
At the address: info@glowingskin.ch
Through our concept store
We welcome you with pleasure to our concept store in Geneva to discuss and discuss facial care and Clean Beauty.