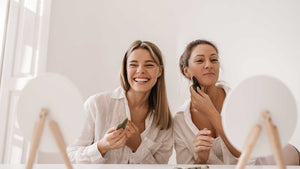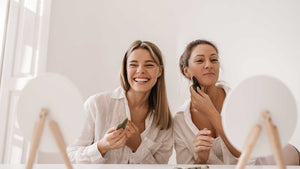 We are delighted to announce our exciting new workshop focusing on
Gua Sha Stones
and Draining or Sculpting Massages. Directed by
Nolwenn
, this workshop offers you an in-depth exploration of the benefits of this ancient treatment technique as well as an introduction to revitalizing massages.
Date and Time:
Thursday, October 19, 2023, from 7:00 p.m. to 8:00 p.m.
Location:
Rue de la Rôtisserie 4, 1204 Geneva
This exclusive workshop has been designed to teach you how to get the most out of beautiful Gua Sha Stones, all from the comfort of your own home.
Workshop highlights:
History and Origin of Gua Sha: Explore the roots and context of this ancient healing technique, discover its benefits and its use through the ages.
Introduction to Lithotherapy: Immerse yourself in the world of lithotherapy and discover how stones can positively influence your physical and emotional well-being.
Gua Sha Demonstrations and Learning: Attend hands-on demonstrations and learn essential Gua Sha techniques. Understand how these special stones can revitalize your skin and your spirit.
After the workshop, we invite you to relax during our Detox Aperitif. A bartender will be on hand to prepare cocktails on the spot (detox for some, or simply delicious for others). You can also receive tips on how to recreate these delicious drinks at home.

Prices :

Participation: Fr. 50.- per person
Members: Free
Each participant will receive a Gua Sha stone as a gift, included in the participation fee.

To reserve your place, simply fill out our registration form by clicking on the link below. As places are limited, we encourage you to register quickly. Registration deadline: September 30, 2023.

Don't miss this unique opportunity to explore the secrets of Gua Sha Stones, associated Massages, and enjoy a moment of conviviality around freshly prepared detox (or not) cocktails. We look forward to welcoming you to this enriching workshop!